An alliance between Archemys, iESE and
the next generation of local government
Important Briefing 17th December
Lord's Cricket Ground Media Centre
The Public Sector has been hit hard and hit often – yet its valuable work must continue. The sector can & should become increasingly self-sufficient; it has the capability. Obviously changes are needed and separately Archemys and iESE have already proven that these can come from within. 
With this goal clear and commitment secured, next comes the resourcefulness to execute. That's what NextGov is about. You'll hear what we've achieved already, together our road-map. It's equally important for us to clearly understand your priorities – because this is about 'pragmatic partnering'.  
The goal of the NextGov alliance is to equip the sector with tools for this vital job – within an accessible ecosystem of customisable modular programmes. Programmes of enterprise strategies, models and implementation kits – underpinned by supportive skills as required.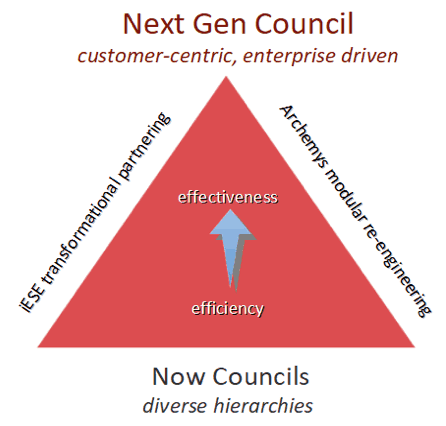 How to move from diverse silo hierarchies to a more effective integrated enterprise? 
The challenge is substantial and the demands of 'the day job' seem to compound the resolution. 
NextGov is a different approach. One that delivers returns at each step and where the whole develops at a sustainable pace; to become greater than the sum of the parts.
We'll outline what we've achieved already:
Re-engineering the organisation
Reconfiguring management and rewiring mindset
Turnkey Models & Tools
Independent Living – adult care
Economic Regeneration – local businesses
Contract Management
Customer Fulfilment & Support
Compliance & Standards
Reserve a free place below for your organisation.
You'll be armed with a different approach and joining a group that's committed to taking more control of their own destinies.